08:30 Registration & Welcome Coffee
09:15 Chairman's Introduction
click for bioChairman: Henrik Hyldahn, Chief Solutions Officer, ShipServ
Henrik Hyldahn joined ShipServ in 2017 and is based in ShipServ's Copenhagen office.
Henrik will focus on developing the business' new ventures and developing new solutions to address the key challenges our customers face.
Before joining ShipServ, Henrik was Chief Information Officer at global maritime services group Seven Seas, before which he held the role of Managing Director at technical and strategic consultancy CUBISOL. Prior to that Henrik also held senior roles at Coca-Cola, the Carlsberg Group, and the Eitzen Group.
09:30 Strategic response case study to a cyber security breach
click for bioEvangelos Mylonas, IT development project manager, A.P. Moller - Maersk
I've been involved in IT for the last 10 years, with half of this time spent with Maersk Line's application development capability. Currently, I'm part of Maersk's Cyber Security capability, created as a response to the 2017 incident.
10:00 Can Digitalisation solve the Climate Challenge in Shipping?
click for bioAsbjørn Overgaard Christensen, Head of Innovation and digitalisation and Executive Director, Danske Rederier
Biography pending.
10:30 Presentation: Digital Strategy - How to achieve your digital transformation
click for bioSvend Lykke-Larsen, Director Sales and Business Development, Maritime IT Solutions, Marlink
Svend has over 12 years' experience in satcom connectivity and IT management, working with international companies. At Marlink, he is in charge of sales and business development of maritime IT and OT solutions and he has extensive experience in service development, customisation and business solutions for maritime operators.
Prior to his time at Marlink, he held a position in the satellite communications industry as Managing Director for KVH Industries, Europe. Before that Svend spent several years working in sales, product management and global key account management functions for the maritime electronics manufacturers Navico and Simrad/Kongsberg Maritime.
Svend studied both in Denmark and France and graduated from the European Centre for Executive Development (CEDEP). .
11:00 Networking Coffee Break
11:30 Smart Assets – future needs for connectivity services
click for bioKlaus Egeberg, Head of Mobility and Connectivity, A.P. Moller - Maersk
Biography pending.
12:00 Finnlines Vessel ERP
click for bioKimmo Kostia, Head of Group IT Hardware, Finnlines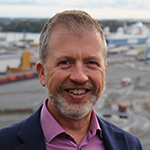 Kimmo Kostia has a career of over 20 years in shipping-related IT and in Finnlines. He is currently responsible for the IT infrastructure of the Finnlines Group.
12:30 Panel discussion What is the best way for the maritime industry to move forward with digitalisation?
Panellists include:
click for bioMichael Carter, Sales Director, Telenor Satellite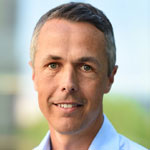 Michael Carter is a Sales Director working with Telenor Satellite in the sales of data services, capacity and related hosting services. Michael played a crucial part in growing the business in the Middle East and building the maritime business in advance of Telenor Satellite's latest launch, THOR 7.
Michael has over 16 years of experience within International Telecomms, having previously worked for Tandberg (now CISCO) and BaneTele.
Michael holds an MBA in International Marketing Management from Griffith University and a Bachelor of Science in Mechanical Engineering from Fontys University in Eindhoven, Holland.
13:15 Networking Lunch
14:15 Mapmaking: making shipboard software more transparent and easier to maintain
click for bioDimitris Lyras, Director, Lyras Shipping
Dimitris Lyras is a member of a family with more than 150 years of experience in shipping, He is director of Lyras Shipping, and director and founder of Ulysses Systems, a software company specializing in the delivery of actionable information, and Ulysses Learning, a simulation-based e-Learning company.
Software which is based on a map or model is much easier to develop and maintain
It is easier to ensure that the software works for highly paid multitasking users and the wide range of use cases which happen in shipping, including increasingly stringent oil major audits
It is easier to show interdependencies and logic when integrating sensors into the software, or integrate with other software
Cyber and data Security require more precise mapping of protection measures
How to set about software mapmaking
14:45 Presentation
click for bioErik Lund, Managing Director, Trade & Transport Impact, Rainmaking
Biography pending.
15:15 Presentation
click for bioGregory Puckett, Head Digital Services, MAN Energy Solutions
Biography pending.
15:45 The vision and roadmap towards autonomous maritime transport system
click for bioJukka Merenluoto, Ecosystem lead, ONE Sea
Jukka Merenluoto is Ecosystem Lead for One Sea, a high-profile business alliance leading the way towards an autonomous maritime ecosystem in the by 2025. He has a lengthy background in ICT and digitalization. He has held director positions and headed strategically important change initiatives in several companies in various industries including maritime, manufacturing, and telecom. He holds a master's degree in Computer Science. He is also MBA graduate from Henley Business School.
16:15 Panel discussion
17:00 Closing Remarks and Drinks Reception
**Please note all topics and timings are TBC and subject to change
For more information on speakers and agenda please contact ben@thedigitalship.com